Brisbane rallies for Greece at The Hellenic Initiative Brisbane Gala
April 6, 2017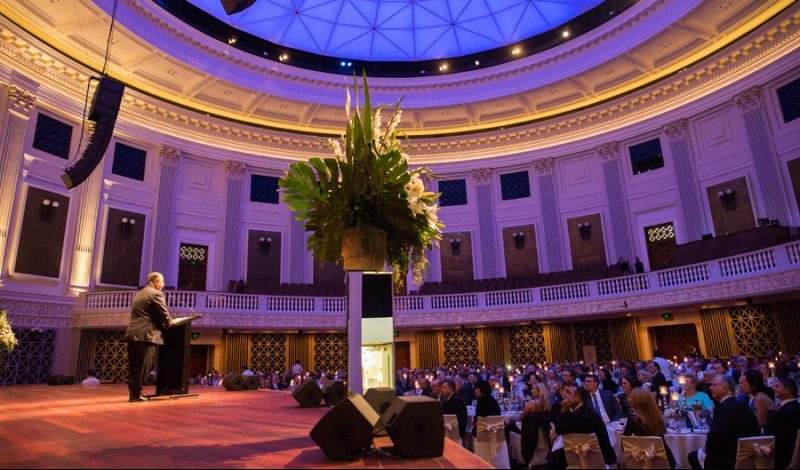 The Hellenic Initiative Australia hosted the first Brisbane Gala Dinner on Saturday 1 April 2017, raising more than $170,000 to support programs assisting people in need in Greece.
More than 350 people attended the event, held under the stunning glass dome of the magnificent Brisbane City Hall, including prominent members of Brisbane's Greek and business community and representatives from across Australia.
The event focused on the impact The Hellenic Initiative programs were having in Greece and highlighted local initiatives such as the THI Australian Internship Program and a new Volunteering Program with THI Australia's partner charity, Boroume.
Keynote speaker Andrew N Liveris, Co-Founder and Chairman of The Hellenic Initiative gave an impassioned address about the role of the diaspora in assisting Greece through programs that aim to create a positive, long-lasting, impact on Greek society.
Delighted to be back to the city where he spent his university years, Mr Liveris spoke of his resounding pride for the efforts being made by the Australian diaspora and how it augured well for the international expansion of THI, as Canada and the UK come on board.
A highlight of the evening was the heartfelt presentation from special guest speaker Alexander Theodoridis, the co-founder of Boroume, whose innovative food saving programs are tackling the issues of food wastage and insecurity in Greece.
"The Hellenic Initiative has been one of the most generous supporters of Boroume for two years…the support from THI can be directly translated to millions of portions of food that we saved and donated to people in need in Greece," Mr Theodoridis said.
"I am really excited by our newest joint project which involves giving Greek Australians visiting Greece this summer the opportunity to volunteer with Boroume and, by spending a few hours at a farmers' market or a field, become part of our daily food saving and offering process."
Boroume, ("We Can") organises the distribution of surplus food to charities throughout Greece – offering more than 20,000 portions of food through their network on average every day. Since 2012, Boroume has saved more than 12.5 million portions of food, valued at €18.7 million, donating it to more than 1000 organisations throughout Greece.

THI Australia president Nick Pappas thanked local THI Australia Board members and event committee convenors Jim Raptis OBE and Emmanuel Drivas, who brought together a wonderful cross section of Brisbane's vibrant Greek community for the event.
"This was a very special evening for The Hellenic Initiative in Australia, with Brisbane's vibrant Greek and philhellene community demonstrating its commitment to the Greek people during these challenging times.
"THI is the first worldwide diaspora effort for Greece, giving us an opportunity to contribute to programs that will assist Greece's recovery and, over time, form a dynamic diaspora group that will be there for Greece in the long term," Mr Pappas said.
The Brisbane event follows successful fundraising events in Perth in 2016 and Melbourne in 2015. The next major THI Australia event is planned for Sydney in October 2017.
Photo credits: Andrew Porfyri