THI Australian Internship Program
THI Australia announces it is seeking host organisations and interested graduates as it restarts its successful Internship Progam put on hold during COVID-19.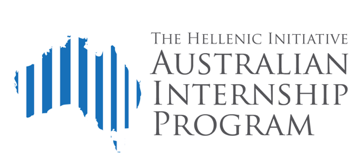 Greece's highly educated and talented youth is its single best hope for the future.
With young people in Greece continuing to face unprecedented unemployment, The Hellenic Initiative's Australian Internship Program offers promising Greek graduates a unique opportunity to boost their CVs, skills and employability.
THI Australia has partnered with companies across Australian to offer paid, six-month internship positions that provide on-the-job training and mentorship.
The program covers return airfares from Greece, visa fees, health and travel insurance, as well as monitoring and support for interns.
Since the program began in 2016, 26 interns from Greece have been placed in Australian companies in a range of sectors, including banking, marketing, architecture and engineering.
The invaluable professional and personal development gained during their Australian work experience has played a major role in helping interns secure employment on their return to Greece.
Greece's youth continues to face a tough employment market and limited opportunities to gain critical experience in their field.
With the support of Australian businesses and corporate Australia, The Hellenic Initiative can continue to offer young Greeks opportunities to kick-start their careers and hope for a brighter future.
Thank you to all our Internship Host Companies.
Companies wishing to offer an internship position can contact [email protected].
Eligibility & Selection Criteria
The Australian Internship Program works in partnership with the ground-breaking ReGeneration youth employment initiative and university partners in Greece to recruit candidates for the Australian positions.
Candidates are only eligible for internships in a field directly related to their educational background. They must be:
18-29 years old.
Greek passport holders and graduates of Greek and foreign tertiary education institutions.
Of upper intermediate-advanced skill level in English (equivalent to IELTS 7.0).
Applicants need to have 12 months of study and/or work experience in their field in the last 24 months at the time of visa submission. In addition, applications need to justify the need for specific further training.
The occupation must match an ANZSCO code, relating to Eligible Skilled Occupations list.