First Greek Interns Arrive in Adelaide
December 19, 2017
The Hellenic Initiative Australia welcomed the first Greek interns to South Australia in December 2017. Athens nurses Katerina Athanasiou and Georgia Papakonstantinou started their six-month internships at St. Basil's Homes in Adelaide on 12 December.
They are the first THI interns working in Aged Care, where their knowledge of nursing and the Greek language will be an immense benefit for the  residents at St Basil's.
Since THI's flagship $1.5 million Internship Program was launched in 2015, The Hellenic Initiative Australia has placed 16 interns in companies across the country, in fields ranging from architecture to IT.
Finance graduate Greg Zampelis, who arrived in Sydney in September, is gaining his first insights into the banking industry through an internship with the Bank of Sydney, while Civil Engineer Frixos Liverios (pictured right)  has been working on building projects with Raptis Group the Gold Coast since August.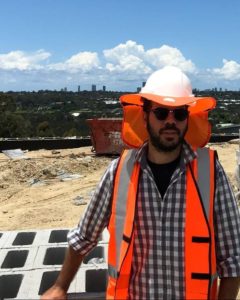 By providing work experience and training to young Greeks during a time of unprecedented unemployment, THI Australia is helping empower them to obtain gainful employment upon their return to Greece.
THI Australia is grateful for the support of St. Basil's Homes in Adelaide, Raptis Group in Queensland, Bank of Sydney and all the host companies around Australia providing these tremendous opportunities.
The next round of interns is expected to arrive from Greece in February 2018.