The Hellenic Initiative Australia hosts special event featuring Andrew N Liveris in Conversation with Mark Bouris
April 3, 2018
The Hellenic Initiative Australia hosted a special event in Melbourne last week featuring global business leader Andrew N Liveris AO, Chairman and CEO of The Dow Chemical Company, in conversation with Australian entrepreneur Mark Bouris AM.
Held at ANZ's Melbourne headquarters, the unique event saw 200 guests enjoying a memorable evening with robust, insightful and entertaining discussion between two of Australia's most esteemed businessmen.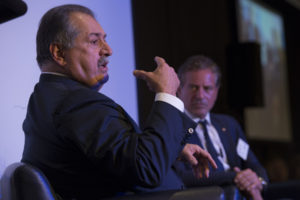 It was the first event Mr Liveris had taken part in in Australia since the Darwin-born son of Greek immigrants completed last year's historic $130 billion merger between Dow and DuPont.
As well as sharing personal insights into his extraordinary career journey, the expansive Q&A covered the DowDuPont merger and global forces dominating business today, including innovation, digitisation, artificial intelligence, the workforces of the future and what Australian business needs to stay globally relevant and competitive.
Mr Liveris also reflected on his Greek roots, Hellenism and what led him to co-found The Hellenic Initiative in 2012, in the wake of the economic crisis, to support Greece's recovery and renewal.
"It was a privilege to have had two remarkable business leaders share their unique insights and experience in support of The Hellenic Initiative Australia," said Nicholas G Pappas, the President of The Hellenic Initiative Australia.
The event on 29 March 2018 was attended by key business leaders and Greek-Australians from across Australia. Proceeds will support The Hellenic Initiative Australia's programs in Greece.
The Hellenic Initiative Australia thanks National Event Partner, ANZ, for co-hosting the event.
Photo Credits: Constantly Flashing Photography