From the farmers markets to the soup kitchen
July 15, 2020
In the three years that The Hellenic Initiative Australia has been supporting the Boroume Farmers Market Program, more than 379 tonnes of food has been collected from markets in Athens and Thessaloniki and donated to local charities and soup kitchens.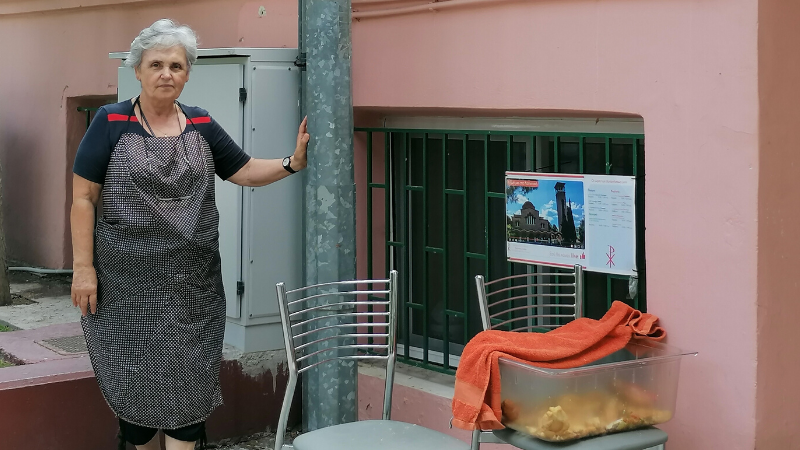 Every Thursday afternoon for the past four years, 74-year-old Dimitra Kolliakou has waited at soup kitchen run by Parish of St Sophia in Neo Psychiko, ready to greet volunteers delivering the produce collected from the local farmers' markets. Most weeks, she heads to the market to help the team collect fruit and vegetables before rushing back to receive the day's food donation.
Mrs Kolliakou has been the "soul" and driving force behind the soup kitchen since she started volunteering there 11 years ago.
She says the collaboration with the Boroume Farmers Market Program has enabled the soup kitchen to feed about 150 people daily, providing fresh hot and cold take-home meals Monday to Friday and food packages for the weekend.
"The food from the market helps covers our needs in the kitchen," she says. "The fruit we give to people, the rest we cook. We use the tomatoes to make sauce and lemons to make juice. Nothing goes to waste."
There is no longer a dining room. People bring their own containers to take the meals away.
"When they are families, we will also give them vegetables each week if we know they are able to cook at home, as some don't have power. It is a big help. You know what it means for these people to have a fresh plate of food that they have cooked for their families?"
As well as produce from the markets, the soup kitchen receives leftover food from event catering or Boroume's other food saving programs, as well as occasional donations from parishioners.
"With the support of Boroume we provide two meals a day, which is very challenging for a soup kitchen. Even municipalities give people one small container of food. What we give is very generous."
Mrs Kolliakou is particularly proud that the soup kitchen managed to keep operating throughout the worst of the economic crisis and during the recent COVID-19 lockdown.
"We found a way, with safety precautions to feed people. They were relying on us."
She says the number of people needing help has significantly increased during her time at the soup kitchen, with many people coming from surrounding areas.
"The crisis brought a lot of people. Where we had 60-70 people, with the crisis we increased to 150 people per day," she says.
"They are mostly families with children, older single people who live alone and can't support themselves, the homeless. We have had a lot of people come up from the centre of Athens because they can't find the quality and the amount of food, so they come to us."
She know most of the regulars and tries to accommodates special dietary requirements for people with health issues.
Numbers fell during the lockdown and some people have not returned, having left Athens or remaining in isolation due to fears for their own health.
Mrs Kolliakou began volunteering at the soup kitchen after she lost her husband. With her grandchildren in their 30s and no obligations, she needed something to keep her busy.
"I wanted to get involved in something that fulfils me and I found it here."
She says she is especially thankful for the support from THI Australia and the work it enables Boroume to do to help so many people.
As well funding for the program, Australian support has also come from volunteers like Perth Barrister Leo Tsaknis, one of more than 140 Australians who have volunteered at markets in Athens and Thessaloniki since 2017 (you can read his account of his experience here).
"When Anna (from Boroume) first told me about the support from Australia, I was pleased that it showed that people don't forget about Greece but I won't " hide it from you, I was astounded, Mrs Kolliakou says.
"Seeing your efforts, for me personally, it makes me feel that I have do something more and I think that really counts. We are all volunteers here and when we leave, we feel we did something, we helped."
St Sofia is one of more than 30 soup kitchens and charities in Athens and Thessaloniki supported by the Boroume Farmers' Market Program.
On 15 July 2020, THI Australia announced a grant of AU$71,000 to support the operation of the program for a fourth year.