THI Australia Public Health Program continues to support the elderly and children during COVID-19 Pandemic in Greece
April 9, 2021
With the extended lockdown period in Greece, THI Australia's Public Health Program at the Doctors of the World Greece Polyclinic in Athens has provided valued access to health care for more than 2,900 individuals in its first nine months.
Six-year-old Nikos (not his real name) has been able to access vital medical treatment in Athens thanks to the support of THI Australia.
Nikos had been referred to the Athens Polyclinic to receive treatment for a serious skin infection, erythema in his mouth, abrasions on his hands and swollen lymph nodes. Pathology tests organised by Doctors of the World Greece led to Nikos being diagnosed with Type 1 Diabetes. Thanks to the Public Health Program, Nikos did not have to wait several months before he could be seen by doctors at a children's hospital and is receiving treatment and medication for his diabetes.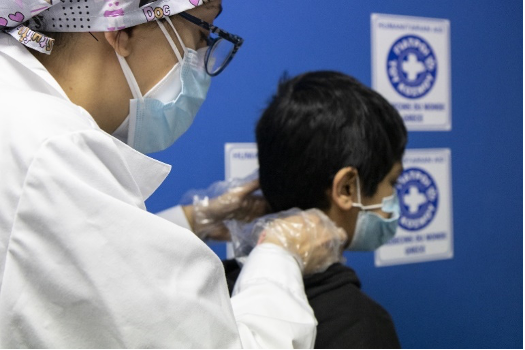 Nikos' mother, Maria (not her real name), is a struggling single parent living in a small, rented apartment with Nikos and her own mother, who for years has suffered from cervical and breast cancer. In her last job, Maria worked seasonally in the tourism sector. With COVID-19, she is now unemployed and with no unemployment benefits, the family of three are forced to survive on Maria's mothers' pension.
Maria was grateful that Nikos was accepted at the Polyclinic and that they were offered such great help. "All of them, the social worker, the nurse and the pediatrician took care of us and explained all the details about my child's condition. On\ the same day of our visit, the blood tests were scheduled, and I did not have to pay," she said. The fact that Doctors of the World provided all the medication for free was also a huge relief to Maria.
"I am happy because I know that there are people here who really embrace those in great need," Maria said.
Doctors of the World Greece will continue to take care of Nikos in order to ensure that he will continue to have easy access to the required services within the National Health System.
Chrysanthi (not her real name) first attended the Polyclinic in Athens in June 2020, when the Public Health Program commenced. She is 69 years old and is a widow surviving on a small pension left by her husband. She lives alone in a rented apartment. Chrysanthi is suffering from several chronic medical conditions – cataract, phlebitis, sciatic nerve pain and diabetes.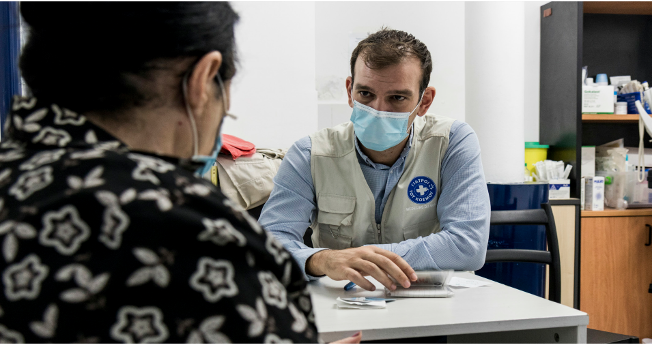 During the lockdown, Chrysanthi tried to reach the Municipal Services but access was limited, and it was only by chance that she came across Doctors of the World Greece. As Chrysanthi recalls, "I called them, and they responded immediately. They booked the appointment and gave me directions to the clinic in Athens."
Chrysanthi had not sought treatment for her medical conditions due to financial pressures. After the loss of her spouse, she was forced to decide what expenses would be cut. "Do I pay my rent, utility bills, visit my doctor or purchase my medications," she said.
The variety of services that were offered by Doctors of the World Greece (insulin, glucose meter, sugar strips for her diabetes and resolving a lot of bureaucratic procedures for her medical examinations at hospitals) has instilled Chrysanthi with confidence that she can now stay on top of her medical problems.
THI Australia's Chief Executive Officer, Stergitsa Zamagias-Hill said "THI Australia is proud to support charities like Doctors of the World Greece which make a significant difference to people like Nikos and his family, and also Chrysanthi. This 12-month program would not have been possible without the generosity of Con and Rita Berbatis."
If you too wish to support initiatives such as the Public Health Program, please let us know. We can tailor a project with one of our partner charities in Greece that satisfies your interests.