The Hellenic Initiative Australia stands by the side of Greeks in need
May 14, 2021
By Maria Athanasiou. Published in the Kathimerini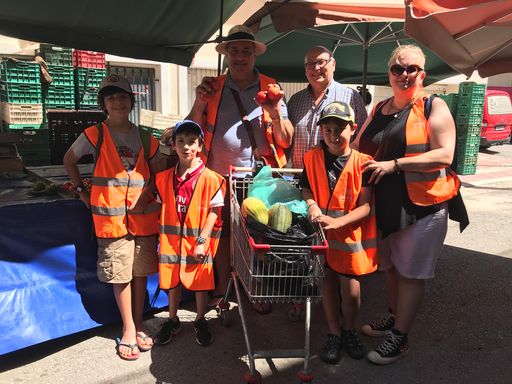 Australian volunteers supporting the Boroume Farmers Market Program in 2018
The provision of medical equipment to health centres and hospitals in Argos, Galatas, Ioannina, Kastoria, Kythera, access to medical services for more than 3,000 people, support to hundreds of homeless people in Attica, tonnes of food to citizens in need, are just some of the programs supported by The Hellenic Initiative of Australia in Greece.
Since its inception in 2014, the organisation has donated over AU$2 million, and,in April 2021 alone,almost AU$50,000 was given to support charities like Mazi Gia to Paidi Children and Wise Greece. Theten charities supported by The Hellenic Initiative Australia include Axion Hellas, Boroume, Desmos, Doctors of the World Greece, Emfasis Foundation, SOS Children's Villages, Paediatric Trauma Care and The Tipping Point.
"Our vision is a strong and sustainable Greece," said Stergitsa Zamagias-Hill, born in Sydney to Greek immigrant parents from Kos, which she frequently visits. The Hellenic Initiative Australia was founded in early 2014, on the invitation of Andrew Liveris, co-founder of The Hellenic Initiative that had been launched two years earlier in the United States, as a global movement in support of Greece through charitable initiatives.
Since then, The Hellenic Initiative Australia has been active as a national organisation, involving prominent members of the Greek-Australian community (lawyers, academics, doctors, bankers) from Sydney, Melbourne, Brisbane, Adelaide, Darwin and Perth.
"I am very proud because when we first met in Sydney and addressed the Greek-Australian community to see how we could harness our passion for Greece, the response was astonishing," recalls Nicholas Pappas, Chairman of the Bank of Sydney and THI Australia's President.
His father, he says, left Kastellorizo ​​in 1943 "as Axis bombs fell" and his family has always been active in the Greek-Australian community, "a tradition I am proud to continue", he emphasises. "Our job is not only to help Greece and its citizens in these difficult times, but also to strengthen the ties between us and the Greek Diaspora across the world."
"Greece will forever have a special place in the hearts and minds of Greek-Australians and we have seen firsthand their desire to contribute to the country in these difficult times," says Zamagias-Hill, who, along with her husband, has been active for decades for the return of the Parthenon Sculptures.
The members of The Hellenic Initiative Australia work in their local communities to inform and raise support and resources for their actions in the areas of education, health, employment and economic development and social services, for which they have successfully mobilised Greeks abroad and Philhellenes.
The resources
Fundraising for the implementation of the organisation's programs is achieved through annual events organised in Australian cities, which are often attended by representatives of beneficiary organisations from Greece, so that they can share their stories and vision with friends and supporters of The Hellenic Initiative Australia.
Unfortunately, due to the pandemic, many of the events could not be held last year, but it plans to organise some in the last months of 2021. Also important is the contribution of individuals and companies that make donations. Recently, Con and Rita Berbatis from Perth donated AU$500,000 making it possible to implement a program in collaboration with Doctors of the World Greece.
Last November and December, an online fundraising call made it possible to offer food and basic necessities to families in various parts of Greece (Alexandria [Greek Macedonia], Athens, Chios, Kalamata, Kavala, Lamia, Messolonghi, Thessaloniki, Volos).
The organisation also provides funding opportunities to Greek-Australians wishing to support initiatives in specific regions, which may be their place of origin or their favourite Greek destination.
Finally, the Internship Program implemented since 2015 is important, as part of which 26 young Greek graduates have travelled to Australia to work in enterprises, thereby gaining valuable experience in their field of specialisation.
Regarding the selection of the organisations supported by THI Australia, this is based on the information received from an extensive network of friends and associates in Greece, who help to identify organisations that meet the funding criteria, provide transparency and report on the effectiveness of their programs.
Once a suitable NGO is identified, the goals and steps for each project are agreed, while, on an annual basis, a check is made on whether the targets of the co-operation are being achieved.
Mr Pappas spends at least six months a year in Greece, while many of the other directors of the organisation travel to Greece at least once a year, so they have the opportunity to meet representatives of beneficiary organisations, and also to participate in their programs – for example, many have volunteered with Boroume at the farmers markets and the Emfasis Mobile Support Unit.
"As long as Greece and its people need it, THI Australia will be by their side," said Zamagias-Hill. "As Greece currently struggles with the social and economic challenges posed by the pandemic, it is encouraging to learn that the Greek Government is at the forefront of digitisation and renewable energy.
The Hellenic Initiative Australia will focus its efforts to promote, among the Greek Diaspora, the plans of the Greek Government that will contribute to the reversal of the brain drain and to the economic development of the country that has offered us so much.