THI Australia Supports Innovative Education Program In Greece For The 5th Consecutive Year
November 6, 2023
The Hellenic Initiative Australia has announced its support for The Tipping Point (TTP), a non-profit educational organisation. They have allocated a new AU$26,000 grant, made possible by the generous donations received from individuals and Greek-Australian Associations.
This latest grant will enable 10 schools in regional parts of Greece. They include the Junior High School of Peta, Arta; 1st High School of Thebes, Boeotia; Junior High School of Fourfouras, Crete; Evening Vocational High School of Platanias, Crete; Highschool of Kalabaki, Drama; 2nd Junior High School of Kalamata; Santrape Junior High School of Kastellorizo; 1st Vocational High School of Kos; Junior High School of Eratyra, Kozani; and Junior High School of Moudros, Lemnos.

We thank The Kastellorizian Association in Melbourne for renewing its support for the Santrape High School on Kastellorizo for the third consecutive year.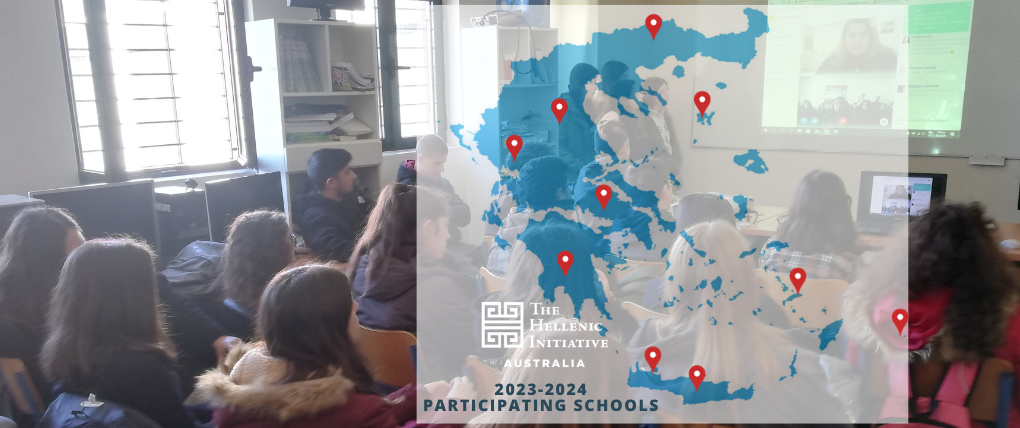 The Tipping Point is an innovative education and youth empowerment initiative that connects students from remote and disadvantaged schools throughout Greece with mentors around the world. The program specifically focuses on students aged 14-18 in public schools located in areas where there are high levels of unemployment, high school dropout rates, and 'brain drain' due to a lack of local opportunities.
The Tipping Point brings the world into the classroom, enriching the experience through providing live online interactive sessions with a diverse range of highly skilled professionals from both Greece and 40 countries worldwide. These mentors can range from doctors and farmers from a nearby island, or a NASA engineer from Florida, providing a broad spectrum of knowledge, career guidance, and inspiration to the participating students.
Students share that The Tipping Point program not only motivates and inspires them to expand their horizons and career aspirations, but also instills them with self-confidence and a profound sense of hope for their future.
Anna, a student at the 2nd Junior High School of Kalamata says "Many children do not know how to start in their lives, in their careers, and we often feel desperate because we constantly hear about unemployment, especially in our country. We all need some advice and guidance. She (my mentor) gave me hope that I can make it."
For more testimonials from previous participants from Crete, Kalamata, Kastellorizo, Kos, and Lemnos, please visit the link Following their Stories.
Throughout the 2022-2023 academic year, THI Australia's support of The Tipping Point resulted in 155 live sessions with the participation of 896 students, 17 educators and 100 mentors across 11 schools. When surveyed, 100% of the students and educators reported that the program significantly contributed to the student's understanding of educational pathways, professions, and the labour market.
A tax-deductible donation of AU$2,600 can support one school to participate in the program for one academic year and THI Australia has the unique opportunity to choose the schools it wishes to support.
THI Australia also encourages Australian professionals from all fields to join the dynamic global Tipping Point mentor community and share their knowledge and experience with high school students around Greece. The Tipping Point welcomes mentors from all fields of expertise, particularly people with experience in entrepreneurship, economics and business, medicine, law, and agriculture.
If you are interested in becoming a mentor, please register online or contact [email protected] for further information.