Supporter Q&A: Steve Siolis
November 7, 2023
Steve Siolis is Chief Executive Officer, Directed Group of Companies. He is a long-standing supporter of The Hellenic Initiative Australia and most recently generously donated approximately $18,000 towards the purchase of paediatric medical equipment by our partner charity, Pediatric Trauma Care, for regional health centres on five small islands in Greece.
When did your family migrate to Australia?
My parents migrated from Kalamata to Melbourne in 1965.
When did you first visit Greece?
My first visit to Greece was in 1974, for a period of 6 months, as the family tried to settle there. However, the life in Australia and opportunities at the time, gave way. I can remember the vans and trucks coming past in the village every morning selling their fruit, vegetables and fish.
What is your personal connection to Greece today?
My personal connection to Greece is to the family that I have there, along with some very close friends, 'adelfiki filia' as they say.
How has your relationship with Greece changed over the years?
When I land in Greece, it is an unexplainable feeling, although I was not born there, the feeling of home, is very real. As I have gone through the stages of my life, the connection and love of Greece has become stronger, year after year. As we have visited through the years with the family, there has been a passion and excitement in exposing my three sons to the culture, the history and the beautiful areas Greece has to offer. Being able to visit the birthplace of their grandparents and showing them the various facets of Greece when we visit, is a highlight that they cherish and the Hellenic pride, is now also embedded in them.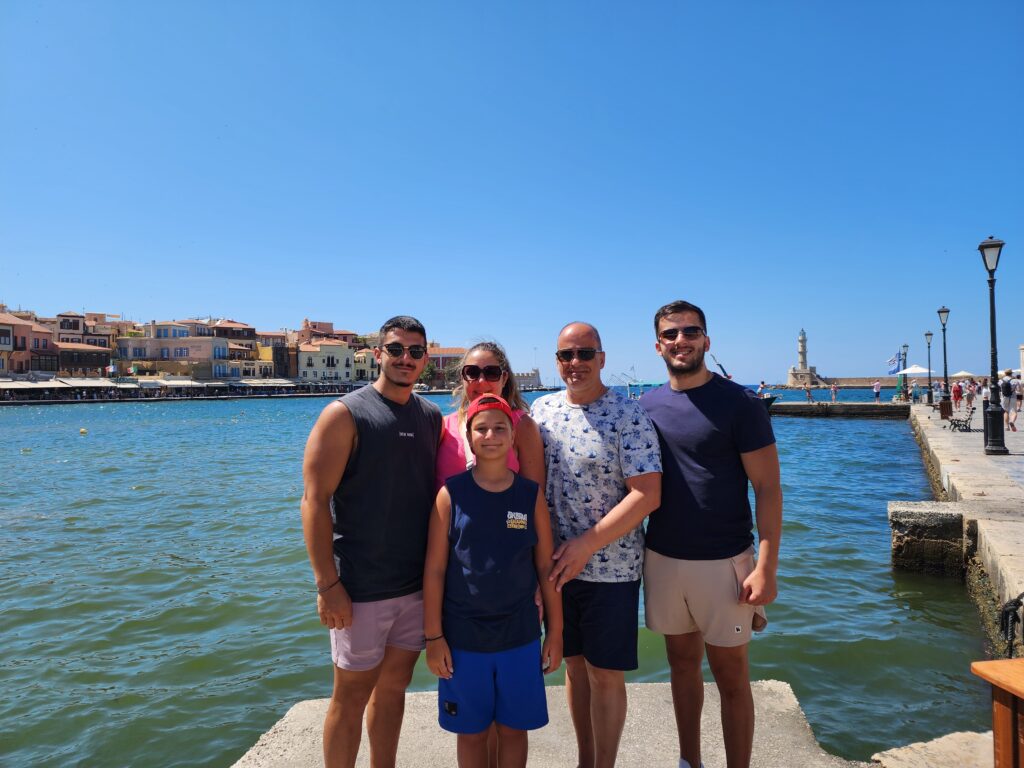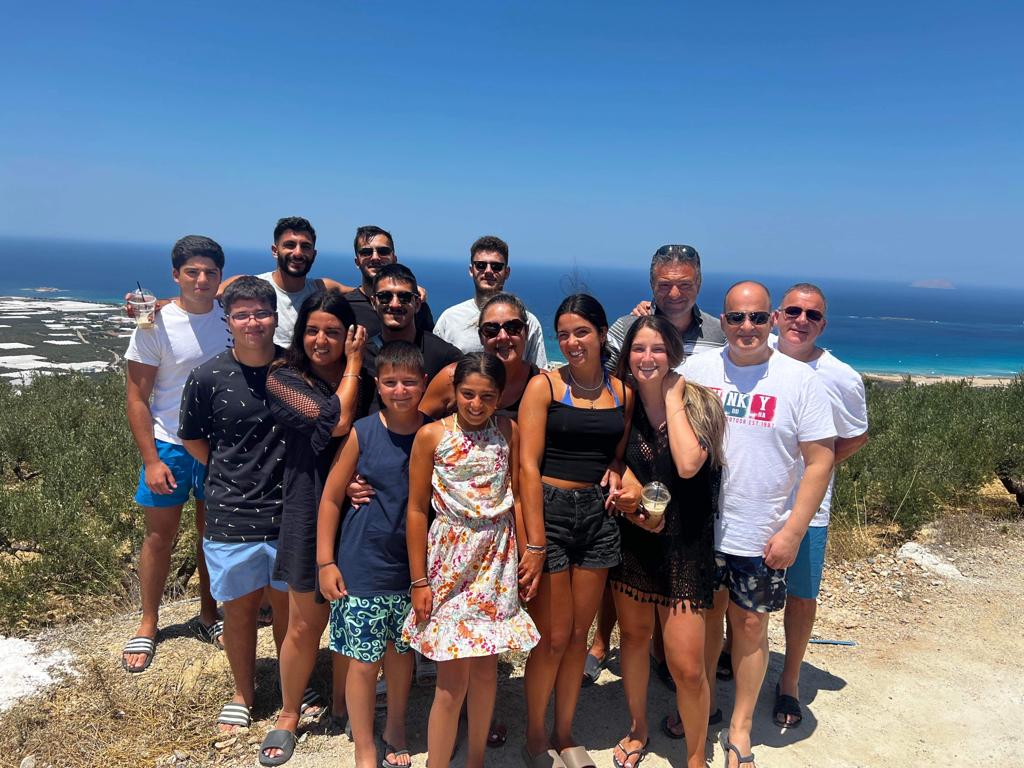 Steve with his wife Anna and sons Kosta, Mihali and Atticus in Chania, Crete in July 2023
The Siolis Family with relatives in Greece in 2023
How have you felt watching the economic crisis in Greece unfold over the past 10 years, which has been compounded by COVID-19 and the increase in energy and cost of living in Greece?
We are connected to Greece, so when we were hearing about the hardships, the austerity measures, the bailouts, the increases in unemployment, the deterioration of the health system and the difficulties the people faced on a day-to-day basis, it was heartbreaking. Your heart tells you to help where you can.
You have been a long-time supporter of The Hellenic Initiative. Why did you choose to support The Hellenic Initiative Australia?
I have been a supporter of THI since the inception in Australia. As a continued supporter of many Hellenic causes over the years, I felt that THI Australia's focused effort and transparency resonated with me.
How important is it for the Greek diaspora in Australia to be part of Greece's renewal?
It is a country decimated through the occupation, the wars, and the battles. This has an effect on its citizens for generations. It is therefore vital for the Greek diaspora to be involved and support its renewal or in some way 'revival'. Many in the diaspora are in a more fortunate position than those in Greece. As the birthplace of civilisation, our parents, and grandparents, some might say, it is our duty to protect and support Greece, to bring it back to the level it deserves.
Are you feeling more optimistic about the future of Greece?
Although Greece was the most severely affected by the crisis, its bounce back and resilience, which has been evident of late, gives an air of optimism. Understanding that there are still major socio-economic issues that must be addressed and resolved. Having been fortunate to visit Greece several times in the last 12 months, I have seen Greece starting to flourish in certain sectors, especially in anything to do with tourism & hospitality. However, the changes and progress on a business and infrastructure front, with job creation, is what brings increased optimism to all.
Directed opened a new $15 million connected mobility innovation centre in Victoria this year. Tell us a little bit about the organisation?
The Directed Group has several entities under it, both in Australia and Internationally. With offices and over 250 staff throughout ANZ, Asia, North America and Europe, Directed supplies world renowned category leading automotive and consumer electronics brands to major national retailers, specialist chains, and an extensive network of trade, fleet and automotive OEM accounts throughout ANZ & the Asia Pacific. Directed also develops and manufactures its own automotive, connected mobility and OEM product & software solutions, supplying many Tier 1 automotive marques.
Our head office is located in Melbourne with offices and warehouses in Perth, Auckland, South Korea, Hong Kong & Hungary.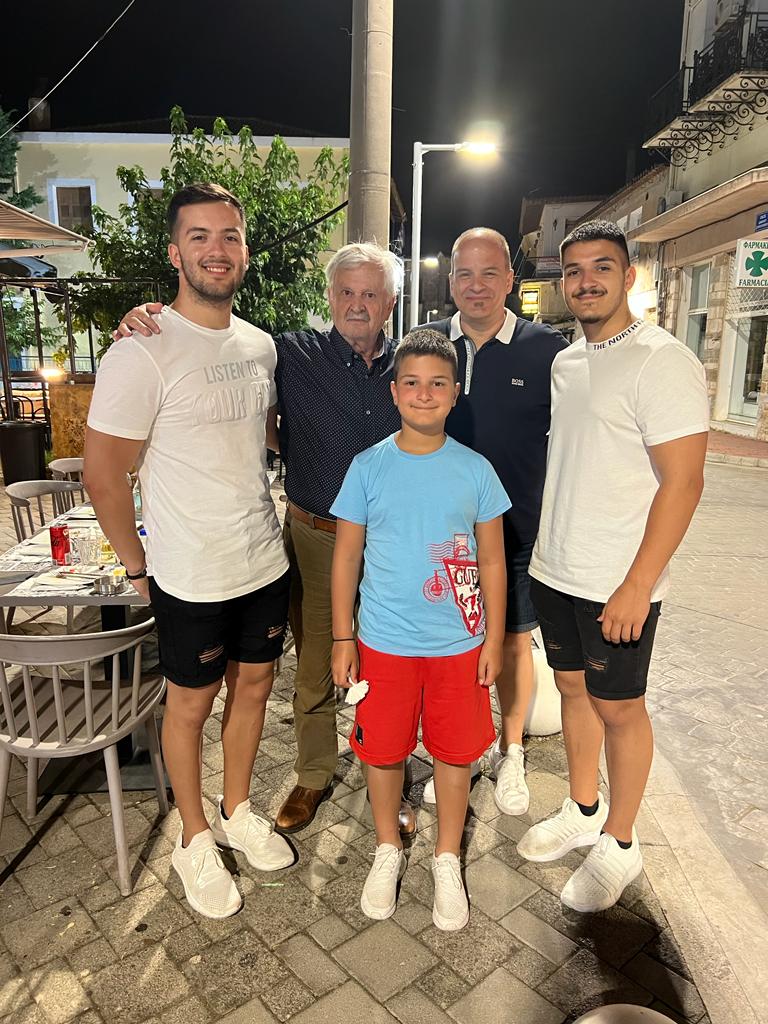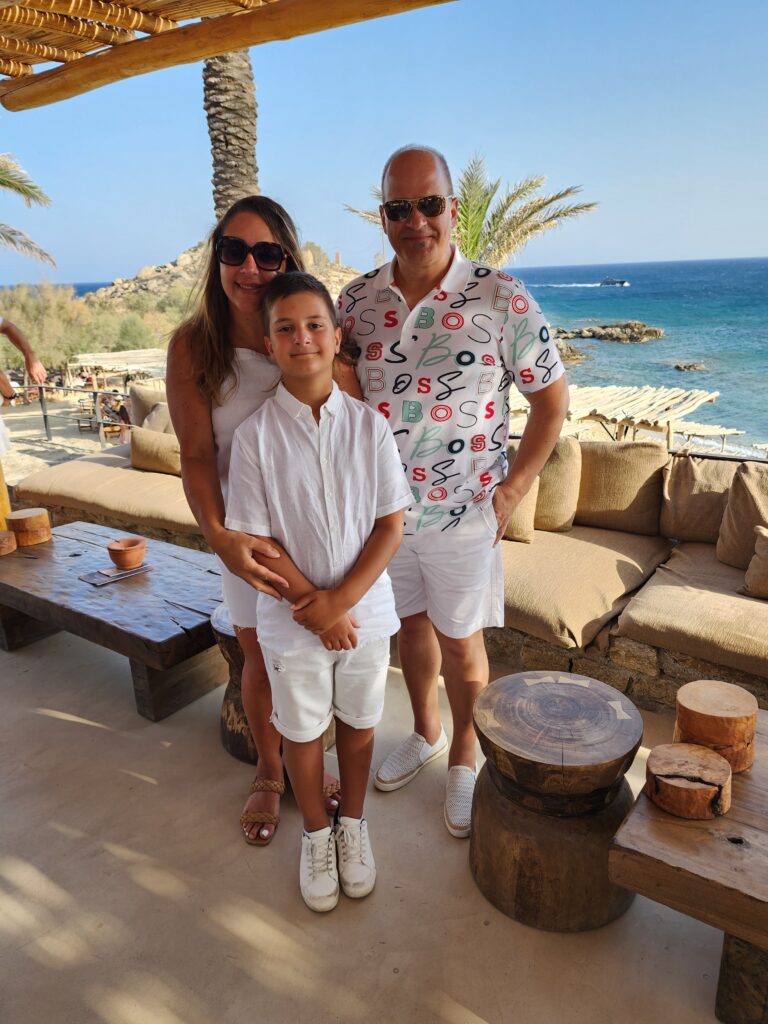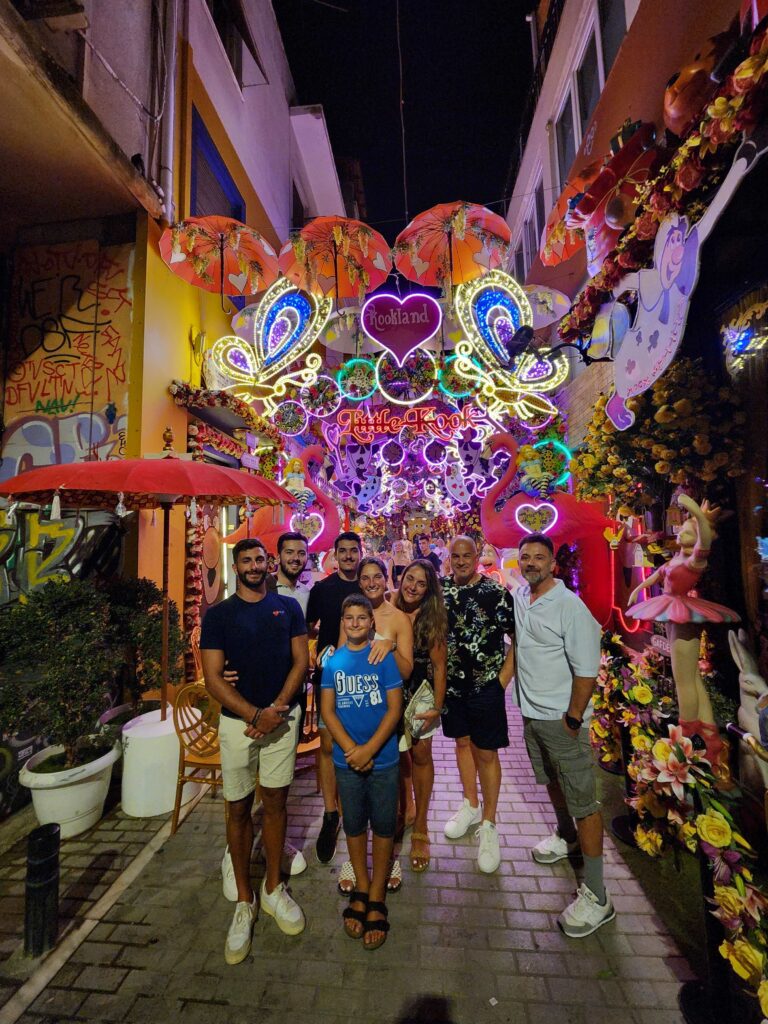 Steve with sons Kosta, Mihali and Atticus and his Uncle Bill Siolis in Meligala, Messinia in 2023
Steve with his wife Anna and youngest son in Greece in 2023
The Siolis Family with relatives in Athens in 2023