Volunteering Program inspiring Australian and local students
December 5, 2019
The Hellenic Initiative Australia's Volunteering Program is forging new bonds between Australia and Greece and also inspiring locals to become volunteers.
In 2017, three Perth teenagers on a student exchange program spent an afternoon volunteering with Boroume at a farmers' market in Athens, collecting fruit and vegetables for donation to people in need. It was such a rewarding experience, that it has become a fixture of the program's biennial trip to Greece, organised by Western Australian-based group, Friends of Kastellorizo.
When program coordinator, Marilyn Tsolakis, was unable to accompany the students to Greece this year, Athens-based teacher Efrossini Zoniou and her husband, Stephanos, stepped in to help.
Efrossini had assisted with the exchange program during the three years the couple lived on the island, where they had befriended many of the Kastellorizians from Perth. When she heard about The Hellenic Initiative Australia's Volunteering Program with Boroume, she immediately saw an opportunity to involve her students in Athens.
"It was no big leap to think the students at my school could participate in a joint action with the Australian students," Efrossini says.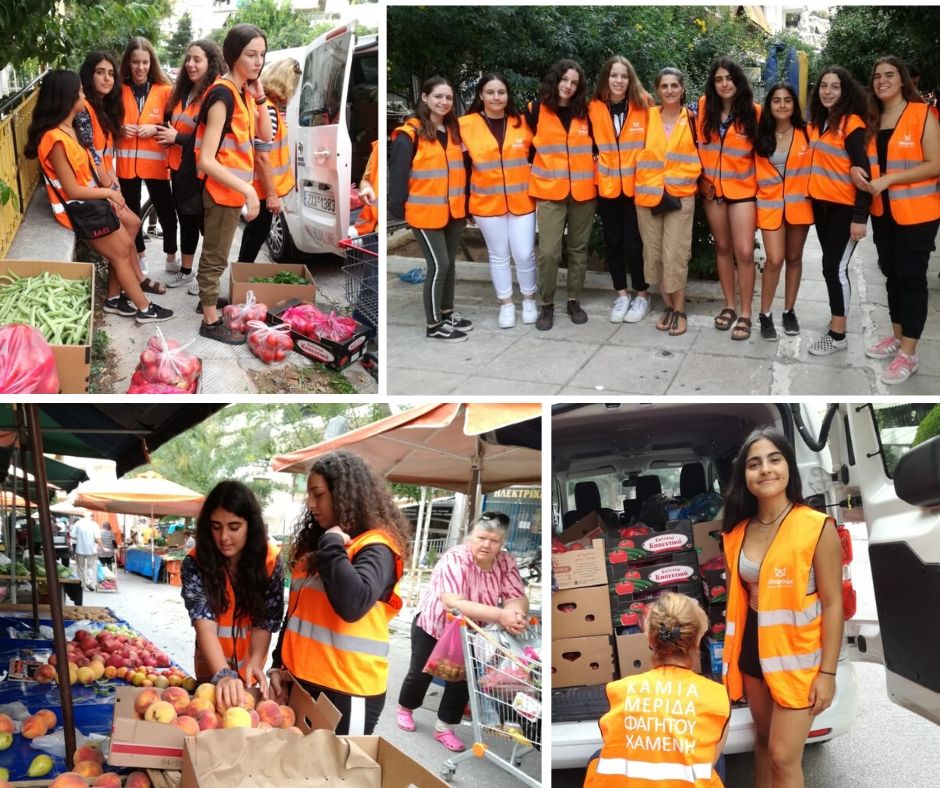 On 10 October, Efrossini and two students from Perth volunteered at the Ilissia market, along with six students and two teachers from the Glymakopoulou School of Languages in Argyroupoli.
"Teaching values is part of our endeavor as English language teachers and volunteering at Ilissia market provided a prime opportunity to combine humanitarian action with interaction in English," said Efrossini.
"The invaluable added bonus was the budding of friendships between our students and the Australian students, therefore the success of this experience went beyond our expectations. We are grateful to The Hellenic Initiative Australia and Boroume for making this happen," she said.
Before they started collecting fruit and vegetables, the students were informed about Boroume's efforts to reduce food waste and redistribute excess food to charities. They were also briefed on the beneficiary of the day's collection, The Home Project. Working alongside The Home Project volunteers, the students helped collected 275 kilos of fruit and vegetables for a nearby shelter for refugee children.
While Efrossini is looking forward to participating with future Australian exchange students, she was so inspired by the program that she got in touch with Boroume to arrange another volunteering day for her school.
On 30 November, 12 students aged between 10-14 volunteered at the Panormou Farmers' market, collecting 291 kilos for donation to Asylo Aniaton, a local hospice for people with Neuro-disabilities. The activity was incorporated into a series of volunteering projects the school traditionally runs in the Christmas spirit of caring and sharing and there are already plans for future actions with Boroume.
"It is wonderful that Efrossini is continuing to assist with local Athenian students from her language school," says Maryilyn Tsolakis. "It establishes a very important message of giving back to the community, which is embedded in the values of our Australian schools."
Boroume's Farmers' Market Program Manager, Anna Campouropoulou, was delighted to receive the feedback from the students and is looking forward to welcoming more Australian and local students.
"It is extremely rewarding to know that young people not only have fun during our actions but is a very positive experience that affects them," Anna says.
Since 2017, more than 150 Australian volunteers, aged from 7 to 82, have participated in The Hellenic Initiative Australia's Volunteering Program with Boroume. Many are choosing to volunteer at different markets over several days or making it a part of their annual holidays. The program is also attracting more student groups.
Hellenic Studies students from Charles Darwin University have volunteered at markets in Athens and Thessaloniki for the past two years and in 2020, two independent high schools from Sydney and Melbourne are planning to include a farmers' market volunteering session in their school trips to Greece.
For Boroume, seeing people who are visiting Athens or Thessaloniki from around the world offering a few hours of their time to help at a market has meant more than just extra hands.
"We feel blessed to have volunteers from Australia joining our teams. Their positive attitude, energy and willingness to do something good for the community and people in need is infectious and encourages our teams," says Anna.
"What amazes us is when we have volunteers from Australia keeping in touch with us and joining our teams every time they are in town. It is also exciting for us to see them conversing with the sellers at the Markets, who are surprised seeing volunteers from so far away greeting them and setting a good example for local people."
Boroume welcomes volunteers Mon-Sat year-round to help teams collecting produce at 29 markets in Athens and Thessaloniki. The Farmer's Market Program currently supports 32 charities. Register to volunteer at http://bit.ly/THI_AU_Volunteering
What the students said: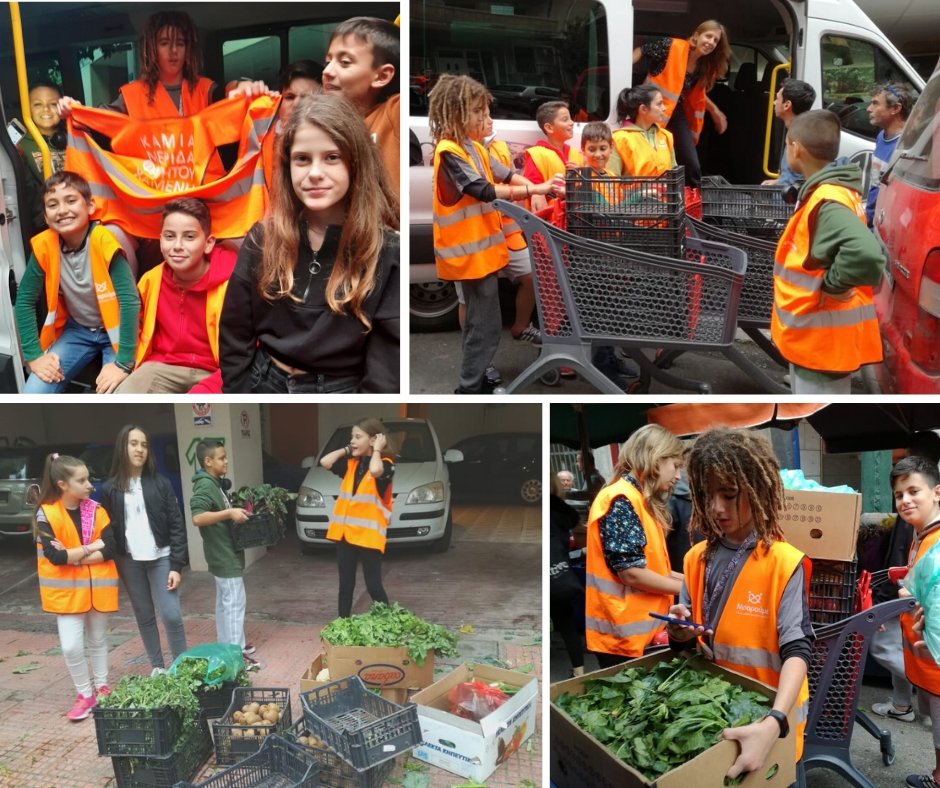 "Having an experience like this in a different country was really nice, because we were helping people and bonding with the students in Athens at the same time. It wasn't hard work and was fun to do and we knew it made a lot of difference to those in need. I found it interesting seeing how the market owners communicated with the students in Greek and seeing people in the markets happy to help for a good cause." – Ella, 16, Perth
"My experience at the farmers' market of Ilissia was really fun and entertaining, because I got the chance to help needy people, who can't afford the food that we can. Also, I had a great time talking and spending time with the girls from Australia. This is an experience that will always be remarkable in my mind."- Elpida, 14, Athens
"I was very pleased to help people in need and it gave me a sense of pride since I knew that I had offered my community significant aid. What is more I met some wonderful people in the process!" – Fenia, 15, Athens
"Cooperating with the Australian students at the farmers' market of Ilissia to help refugee children that are in need of food was an enjoyable experience for me because I learned a lot of new things. We had an amazing day!" – Rafaela, 14, Athens
"Taking part with the Home Project at the farmers market in Ilissia was a rewarding experience. It was great to help out with my newly-found Greek friends by collecting a lot of food to give to people in need. It felt good saving all that food that was going to waste and being part of this initiative is something I will never forget. – Mia, 15, Perth.

"It was the first time in my life that I had had anything to do with volunteering. I felt so happy! I can't really explain all the feelings I had when I offered my help. So, I want to tell the Home Project and Boroume that all the work that they do for these people is amazing and thank them for the experience that they gave me!" – Konstantina D, 16, Athens
"I am proud of our volunteering action at Ilissia farmers' market, because in this way we helped people who are in need. I would do it again and again." – Κonstantina Ν, 14, Athens