Aged Care internships create special connections at St Basil's Homes in South Australia
January 15, 2020
Since 2017, The Hellenic Initiative Australia has collaborated with St Basil's Homes – a provider of culturally and linguistically diverse aged care services in South Australia – to offer Aged Care internships to young graduates from Greece.
Four graduate nurses from Greece have successfully completed six-month personal care internships at St Basil's and another three interns are due to arrive in January 2020.
With approximately half of St Basil's residents being of Hellenic origin, having native Greek speakers on staff with nursing qualifications offers an immense benefit for staff and residents, according to St Basil's CEO Michelle Church.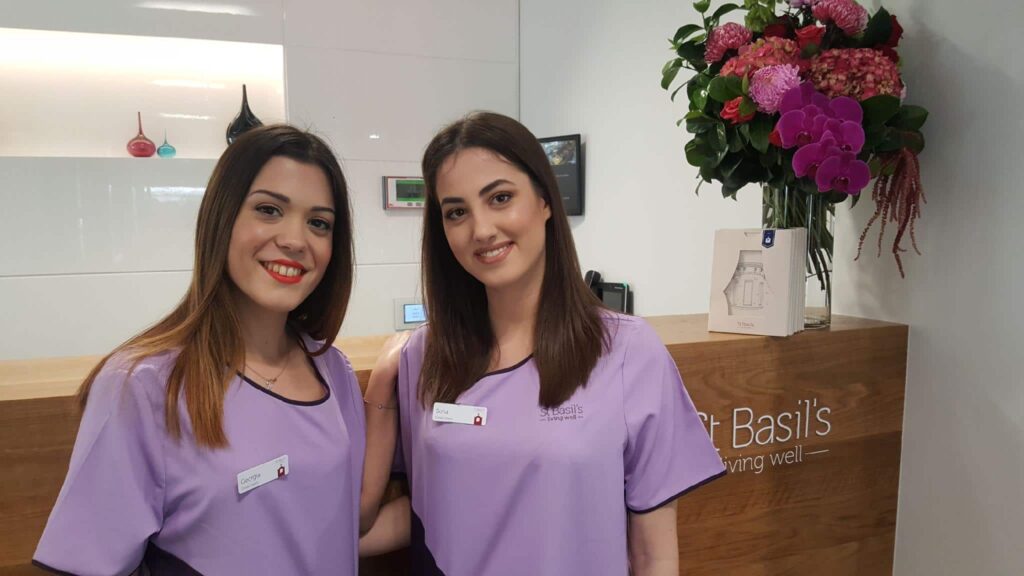 "It is difficult to find this combination of care and language proficiency, so this is a great program for us, while allowing us to provide opportunities for Greek interns to gain experience in the Australian aged care system," says Mrs Church.
"It's been an absolute pleasure having The Hellenic Initiative Australia interns join the St Basil's team for six months. They've embraced their new environment and improved their care skills whilst creating special connections with our residents," Mrs Church says.
The Hellenic Initiative Australia collaborates with the Department of Nursing at the National and Kapodistrian University of Athens to recruit interns who are interested in specialising in Aged Care and gaining experience with dementia and the special needs of the elderly.
"I had the opportunity to see the way that people in Adelaide organise the care of the residents and as a result I have the chance to transfer this knowledge to Greece and try to make some changes in care plans," says Georgia Papakonstantinou, who completed her internship in 2018.
Likewise, Sofia Noula believes the experience she gained at St Basil's last year will be beneficial to her nursing career.
"Working at St Basil's Homes was a stimulating and deeply inspirational educational experience," she says. "I had the opportunity to gain new skills and significant insights into the fields of aged care nursing and personal care assistance. I am truly grateful for the chance to work in Australia and hope that this internship will lead to further opportunities and a brighter future."
Katerina Athanasiou, one of the first Greek interns at St Basil's, was pleased to have been able to communicate with residents in their first language as well as reading, dancing and singing with them and bringing a fresh perspective of Greek culture.
"Even after all these years, they miss Greece and want to hear stories about how things are there," she says. "We learnt how important it was for them to talk about their past and were able to encourage them participate in various activities to keep them active. At the same time, we were able to gain experience in various facets of daily operations in an aged care environment, while sharing our cultural knowledge with other members of our team."
The Hellenic Initiative Australia CEO, Stergitsa Zamagias-Hill, says St Basil's has been a major supporter of its Internship Program, which has created 24 internships to date for Greek graduates in companies across Australia since it was launched in 2015.  In addition to providing interns with employment and training opportunities, St Basil's has sponsored the internship program and travel costs and assists with subsidised accommodation.
"We are very proud of our collaboration with St Basil's Homes," Ms Zamagias-Hill says. "As well as providing Greek nursing students with work experience in the aged care sector, these internships offer tremendous opportunities for personal and professional development.
"We encourage companies across Australia to consider providing an internship opportunity to young Greeks, who are still facing major challenges finding employment and gaining experience in their field."
Find out more about our Internship Program .